Nintendo remains committed to creating a strong link between Nintendo Switch and the mobile devices, in the sense of compatibility functions that serve to advance in the games of the console. A good account of it gives the Pokémon GO and your link with their counterparts in the Switch, where you can transfer Pokémon from a simple way. Now it is the turn of Animal Crossing: New Horizons, with which you can perform an action very curious.
It turns out that we are fervent users of the saga Animal Crossing, we're going to be able to share content from our Android terminal, in particular designs of clothing through the scanning of QR codes. You can use this function for sending of layouts, one of the most customizable in the game.
How to scan QR codes
The case is that it can scan QR codes of other previous titles, such as New Leaf, or Happy Home Designer, although in the first place, you must know how to do it and that will have an effect in the current game. The function that will allow us this function is NookLink, which must be activated before you can. To do this, we must follow a series of steps that we show you below:
Download the app Nintendo Switch Onlineand I login with the same account you have to enter in the game.
We enter into New Horizons and we head to the settings menu, where you can see the option activate NookLink. Once done, restart the app from the mobile phone to complete the activation of this system.
To start scanning QR codes, we head back to the app Nintendo Switch Online, and press in Animal Crossing: New Horizons. Then, press the "Designs" and then "Scan QR code".
Once scanned the code, save and return to open the game in the portable console. In a section that put "Designs", you will see a "+" sign to add content. If you press it, it should show any code you have saved in the app, we could download that design imported from another game of the saga.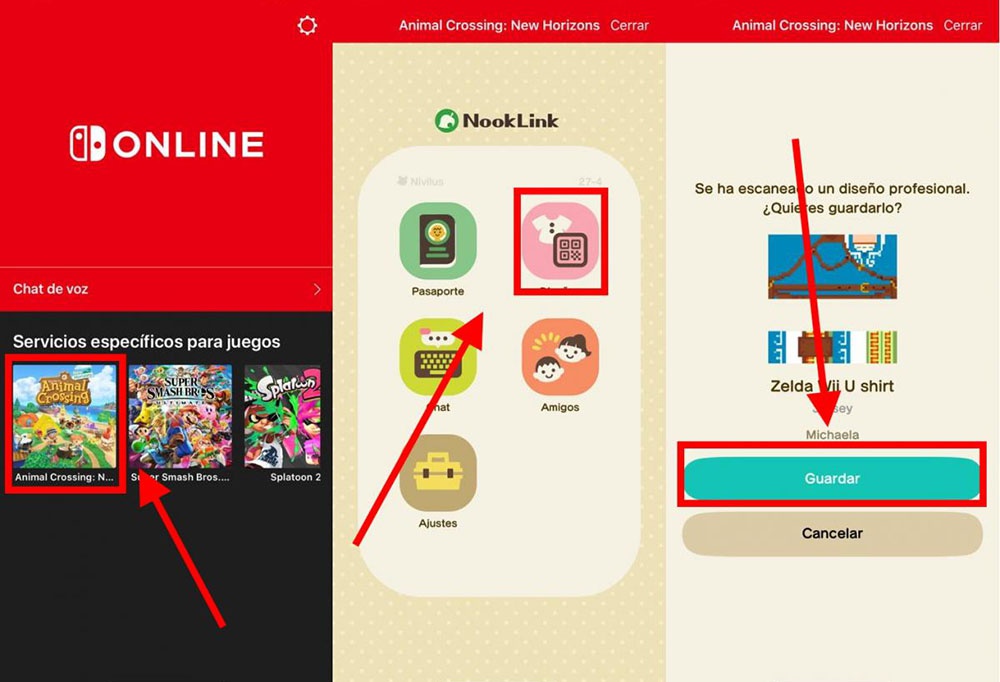 Remember that you can only perform this scanning of designs of clothes once for each start of the game, nor be able to import cuts in the face of previous titles to New Horizons, as they are not compatible. To share designs with other users is somewhat more complex, since in the game we must build a store previously and also have a subscription online, which we can manage from the Android app.