Not to be confused with his older brothers, both with Shadowgun Legends as with Shadowgun Deadzone, since this is the last title released in the series. This game mode requires skill to play a good role in their frantic games. Below, we'll show some tips for how to do better in them.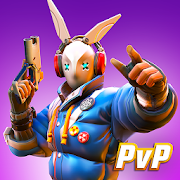 How to win in Capture the Flag
The game has two modes, one of them is this, while the other is called Duel to the death, which is basically just a mythical Duel by teams. But in this case, it comes to a showdown with two teams of 5 players, with a flag that each team will have to defend in order not to lose it, and that if we follow a few steps to keep in mind, it will be easier to accomplish this.
Trace a route
Players accustomed to the FPS shooter will see it as a very basic concept, but can be something essential in this game. Know all the routes on the map to trace the path of back and forth with the flag in tow, can mean the difference between victory and defeat.
Each map has several alternatives that we can take to capture the objective, where perhaps the route more strange or more away from the center is the most suitable. It is more generally recommended to dedicate the first round to this recognition of the territory instead of going for the flag, especially in the case of one of our first games, or if we want to guess the strategy of the opponent team.
Characters suitable for this game mode
Another important aspect is to choose the character most suitable. Luckily, on Shadowgun there are a variety of warriors, with several types of classes in the each one has a specific skill. If what you want is to accumulate low to increase our counter of deaths, we can serve anyone of the available in the catalogue.
But if what you want is to play in a team and fulfill the main objective, then you will have to choose with the most affinity for the character. Slade it is a good choice to compete in this game mode, since it is able to regenerate his life faster, although if you are looking for is speed, Jet it is the best example for this. We can also opt to have the healing, choosing to Sara.
Keep in mind that it is a game very focused to play cooperatively with friends, above all to communicate better. Therefore, our greatest weapon, beyond choose this or that warrior, we must try to play with friends for more support and better team play.