The immediacy of its delivery and its zero cost are factors that have led to the replacement of telephone calls by the voice message. The former has been relegated to conversations that only require of a immediate communication. Yes, such has been the complainant of the audios for WhatsApp, that on many occasions the duration of the same have been… long, to say the least.
A brief review by TalkFaster
These long time intervals are the objective of memes, as more than one has fallen asleep listening to what could be the plot of a film. For that reason, this app allows you to speed up and cut the voice messages so you end up before, and without breaks in the audio manually.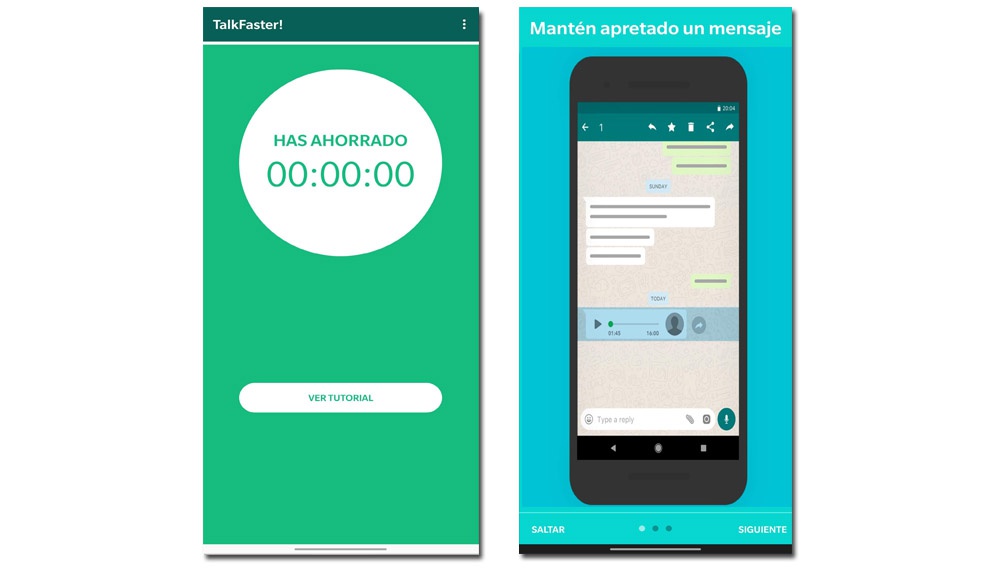 When we say that it is a short journey, it really is going to be very short. Surprised all that it offers if we take into account what occupies the memory of the terminal, and the simplicity of its interface. Once the app is installed, shows us a small tutorial to use this tool in a simple way. Apart from that, nothing more, only a minute counter saved in the listening audio. Or customization, or settings menuor anything like that.
How to speed up the audio in WhatsApp
To trim any audio in the messaging app, you can perform full in the own app WhastApp. In this way, we could say that the functionality of TalkFaster is limited to a pop-up on screen which is responsible for speeding up the audio without any type of complication.
Once we find ourselves in the messaging app, select that audio that could well serve as a prologue to the Lord of the Rings, by holding down your finger on the screen and selecting the "Share" button. We chose the app TalkFaster and from there, we can edit the voice note to our liking.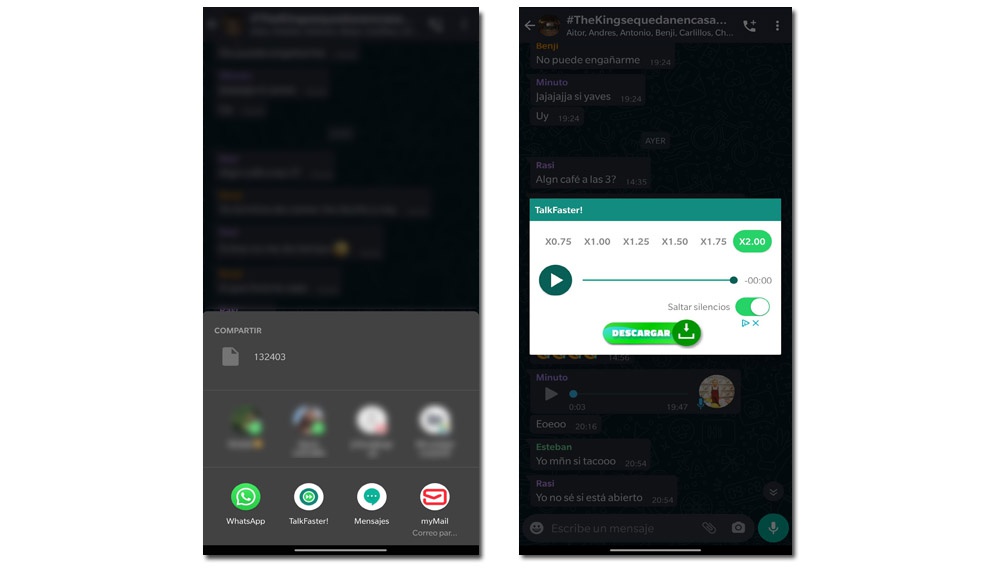 We have up to 6 different speeds, whose maximum value may reach double the normal rhythm of the voice message, in addition to slow down if necessary, or if the audio quality is bad. A detail to keep in mind is that we can to obviate the silences for the message, so that the time to hear the audios to be most efficient.